They'll Be There for You: The Joy of Good Friends
After a challenging year, the love, caring and laughs provided by friends mean more than ever
What would you guess is the top lifestyle predictor of how long you'll live? Diet? Exercise? Marital status? Nope. How often you see a doctor? Quitting smoking? Getting the flu shot? Nope. What heads the list is no surprise to me.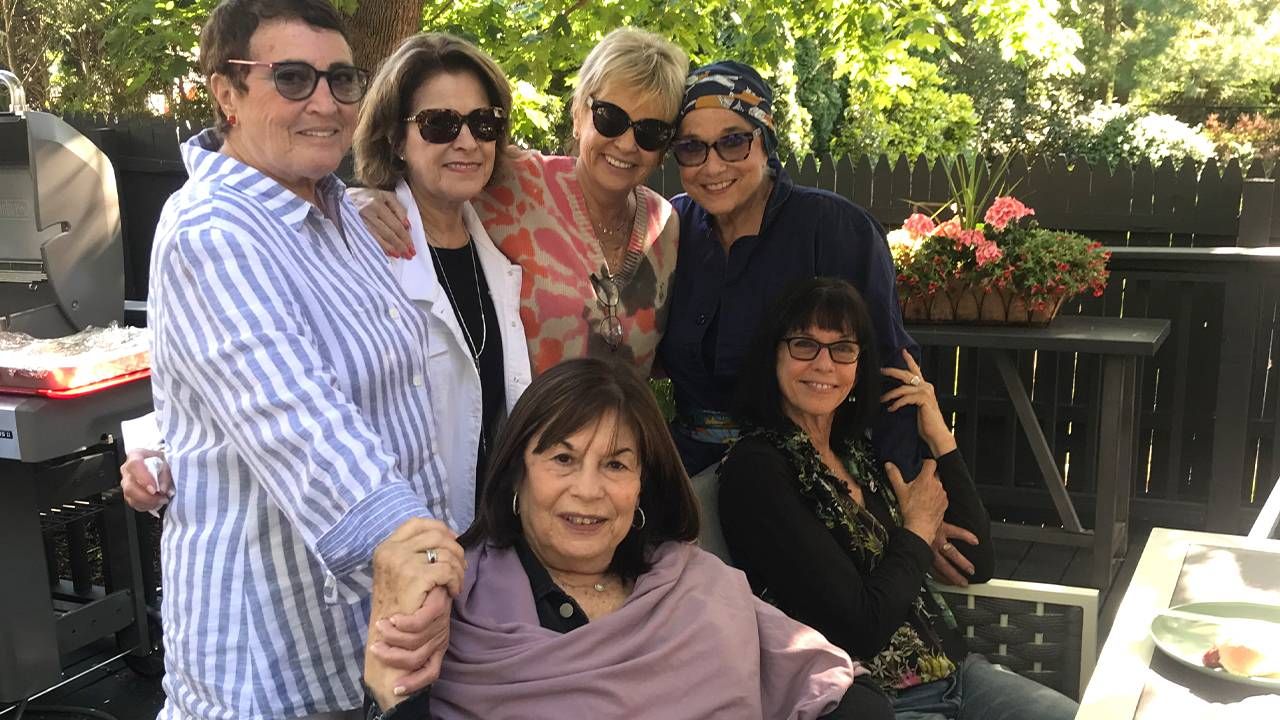 It's as life enhancing as the world's most devoted family, brilliant doctors and countless hard hours in therapy. More instrumental in raising my spirits and my blood count than anything I've read or ingested.
It is being rescued by women who showed up to say "I am here for you" dozens of times, and then proved it in dozens of ways.
No one I know thrived this past year. We've all felt cheated and deprived and scared. That fickle finger of fate wagged at everyone and everything we hold dear. Yet my friends showed up, challenging the test of time, over and over and over again. My nurturers and cheerleaders expanded to include the children of my friends…and the friends of my children.
I can't forget those on rotation who accompany me on three-mile walks in the park. Too much? Am I bragging? Wouldn't you?
COVID-19 and my cancer turned the writers in my weekly Zoom class into dear ones sending poetry and orchids and loving notes. I made myself small, and hid under the silver lining they embodied, and rode out the storm.
My Friends and I Shared Life's Firsts
Three of my friends and I share Brooklyn roots. We played Hit the Penny, remember each other's grandmas and talked on the phone in the not-at-all-private foyer for hours, its cord stretching out from the kitchen wall.
We shopped for white pleated skirts and pink angora sweaters, crushed on Troy Donahue and cried together for the entire weekend when JFK was assassinated. We shared all of life's firsts…cigarettes and tampons, loves and losses, achievements and challenges. We are each other's pride and joy.
All of my through-thick-and-thin girlfriends, whether we met by way of husbands or kids or work or the neighborhood, offer shoulders, lend ears and give validation that is intuitive and intimate.
One of them knit the indescribably soft blanket I snoozed under during each round of chemotherapy and supplied loads of Ruth Bader Ginsburg items to inspire me daily. Another makes honest-to-God healing chicken soup, which she delivered in six freezable plastic containers, each complete with noodles and a matzoh ball.
Friends transform our stupidest mistakes into laughs and our hardest moments into badges of courage.
Another sends high-end skin potions I've come to believe are my birthright. One did my entire grocery/drug store shopping FOR MONTHS. And then there are the bearers of slippers and brownies and cashmere sweats and the loving cards that motivated a really weary me to run to the front door at 2 o'clock each day to check for the mail.
I can't forget those on rotation who accompany me on three-mile walks in the park. Too much? Am I bragging? Wouldn't you?