One of our Thrive at Home members Leila Daw is a well-known artist who is currently participating in two upcoming exhibitions in Connecticut. The first is an 8 person show at the exciting, expanding, Five Points Center for Visual Arts, 33 Main St., Torrington, CT, opening Friday, Jan 31, 6PM. One of Leila's 4 pieces that are being showcased can seen on the bottom of the exhibition announcement. There will be 7 other artists here and it should be a great show!
The second show opens Wednesday, February 12, at the Henry Koerner Center, Yale University, 149 Elm Street, 2nd floor, New Haven, 5:00 pm, and will include this work, Mandalay Out of Balance, among others: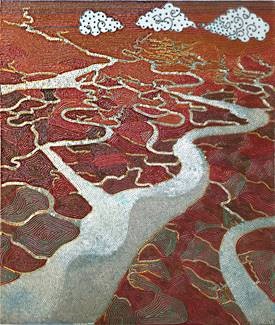 Details about this show will follow!